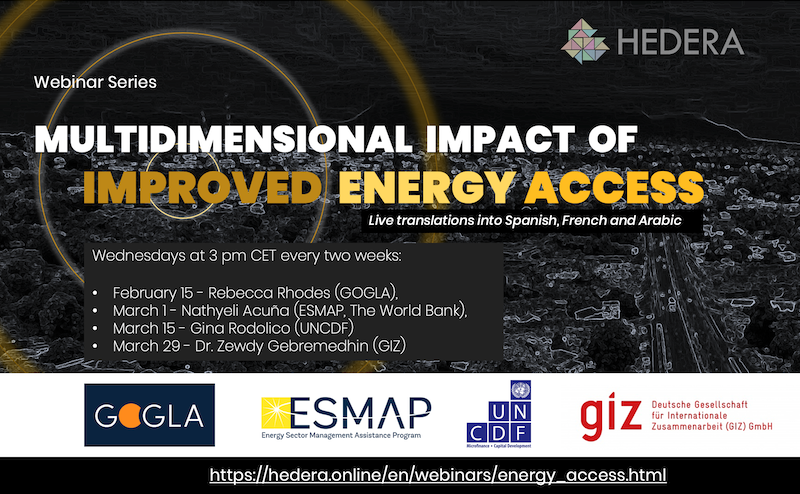 Green inclusive finance starts by understanding the needs of the microfinance clients to drive all efforts to improve their quality of life.  Ensuring access to finance for clean energy is the beginning of a journey of empowerment, but… What are the impacts? Are there gender aspects to reflect on? Are the objectives and programs on the right path for ensuring a prosperous future for all?
Microfinance stakeholders interested in launching or boosting their green inclusive finance programs are invited to join the HEDERA Webinar Series on the Multidimensional Impacts of Improved Energy Access, starting February 15, 2023 at 3pm CET.
The webinar sessions (1h) bring together four exceptional women leaders from the energy access sector:
February 15, 3 pm CET – Rebecca Rhodes (GOGLA),
March 1, 3 pm CET – Nathyeli Acuña (ESMAP, The World Bank),
March 15, 3 pm CET – Gina Rodolico (UNCDF), and
March 29, 3 pm CET – Dr. Zewdy Gebremedhin (GIZ),
who will share their work, plans, and advice on how to boost women's empowerment through energy access, with key calls to action to the microfinance sector.
The webinar session will be in English with live translations into Spanish, French, and Arabic.
Register
here: https://us06web.zoom.us/meeting/register/tZEqfuGgqT0sGdTvVKtjCrWmmH47WFLGUH8d 
More information about the event here: https://hedera.online/en/webinars/energy_access.html