From October 21 to 25, 2019, the fourth edition of African Microfinance Week (SAM) was held in Ouagadougou, under the theme " Pathways toward impact : African inclusive finance for the Sustainable Development Goals".
The African Microfinance week, of which MAIN is co-organizer, is a biannual international conference dedicated to the development of financial inclusion in Africa.
The conference took place at the Ouaga 2000 International Conference Center and brought together more than 900 participants from 54 countries, including 35 from Africa. SAM brings together African microfinance practitionners in a place of debate and exchange. Above all, it facilitates meetings by opening up to other stakeholders, political, financial, investors, innovators, entrepreneurs and others. It thus contributes to the evolution of financial inclusion in Africa in a changing world. SAM is a strong ecosystem of events, including an investor fair, the innovation fair, research meet Africa, several workshops, etc.
It was also an opportunity for MAIN to hold its 9th general assembly which brought together more than 60 members.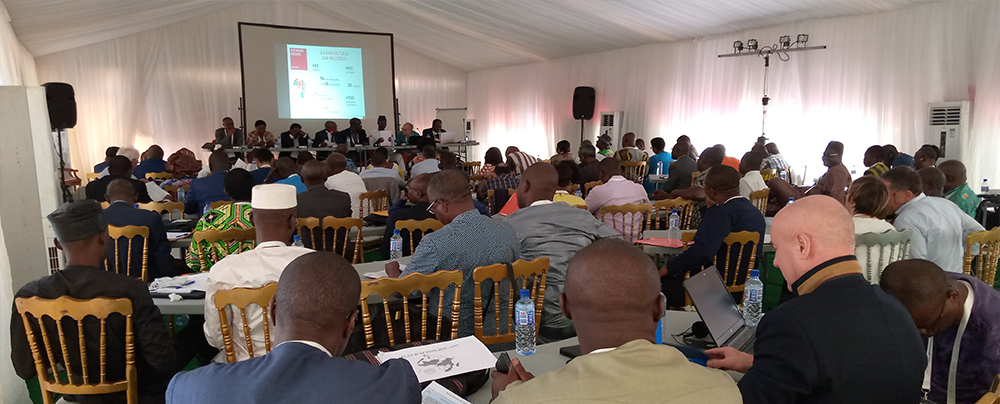 During this general meeting, the various management reports were approved by members and the board of directors was renewed. The composition of the new board is as follows:
From left to right:
Prof Ddumba John Ssentamu, member (CENTENARY-Ouganda)
M. ASRI Mohamed, member (HPS-Maroc)
Mme. MAMPOUYA Ghislaine, member (CAPPED-Congo Brazzaville)
M. ODANOU Yombo, President (CECA- Togo)
M. LESAFFRE Dominique, Treasurer, (SIDI- France)
Mme ADOUKONOU Valentine, member (AFRICA Finances- Bénin)
M. KIMANTHI Mutua, Vice President, (K-Rep, Kenya)
The Ministry of Finance of the Grand Duchy of Luxembourg and the Alliance for Financial Inclusion (AFI) have signed a letter of agreement for the creation of a multi-donor collaboration framework for the African continent. The objective of this multi-donor mechanism for the implementation of financial inclusion policies (MD-PIF) is to contribute to the progression of access to financial services, taking into account gender equality, education and innovations in digital finance.
AFI brings together central banks and financial regulators from more than 90 countries for innovative and sustainable development of the financial sectors at national and regional levels.
source: https://www.afi-global.org/news/2019/09/luxembourg-signing-will-help-bolster-financial-inclusion-across-african-continent
Responsible financial inclusion includes client protection principles to help financial services providers including their agents the practice of good ethics and smart business. To achieve its mission of enhancing inclusive finance in a professional financial sector, AMFIU has approached the issue of increasing outreach by implementing a number of consumer protection initiatives that aimed at enhancing consumer confidence in the sector and promoting responsible finance by having both well informed consumers and financial service providers.
On the realization of how technology is driving financial inclusion and the key role mobile money agents are playing in this eco-system, AMFIU started building the capacity of the mobile money agents on the client protection principles. The quarter saw a total of 320 mobile agents receive training on the consumer protection principles. The agents recognized the importance of the training since they interface with clients on a daily basis, said Flavia, Senior Trainer. The training also saw participation of MTN Uganda and the Financial Intelligence Authority. Mr. Opeto Moses of MTN Uganda asked the participants to take the issues of consumer protections with greater importance as they have serious implications on their operations.
The Client Protection Principles are the minimum standards that clients should expect to receive when doing business with financial institutions including their agent. These principles were distilled from the path-breaking work by providers, international networks, Central Banks and National Microfinance Associations to develop pro-client codes of conduct and practices. There is consensus within the financial inclusion industry that providers of financial services should adhere to these core principles.
source: https://www.amfiu.org.ug/news-and-events/396-mobile-money-agents-receive-capacity-building-in-consumer-protection-principles